When I first started playing poker regularly in 2019, I was looking for fun.
I wanted a new hobby to get good at – with the bonus hope of making a few bucks on the side.
Since then, my relationship with the game has evolved. 
After 1,400+ hours of poker over the past 4 years. I've become 10x better at the game.
And I can definitively say that I am an above-average recreational player.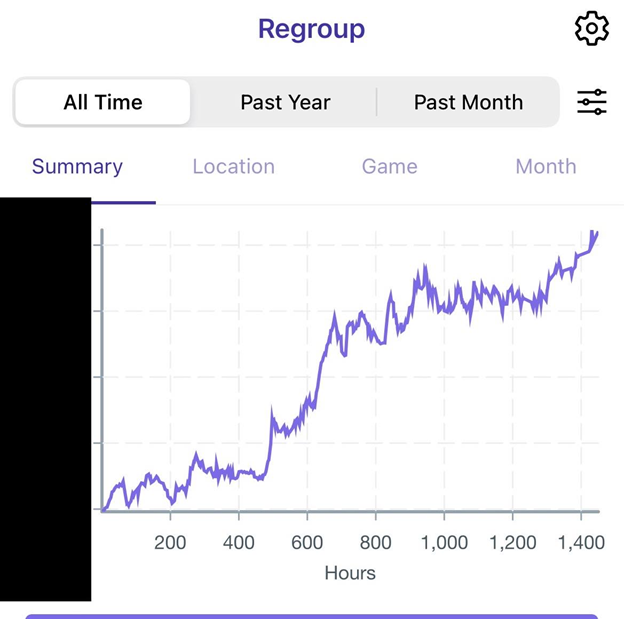 IFYKYK😎. Source: Regroup Poker Tools
I've even toyed with the idea of going pro at times. And I've always decided against it.
For me, understanding what I want to get out of playing poker is critical to my long-term happiness.
Is my goal to make money, to make friends, or to have fun?
On the fun front – that is a given. The game is amazing. I don't think I'll ever get tired of it.
On the friends front,  the majority of the new friends I've made over the last 4 years are directly or indirectly because of poker. That's been cool.
But on the money front, I'm worried about two things.
#1 High opportunity cost.
There are other, more enjoyable ways to make more money in this world than playing poker.
#2 The ceiling is capped for me as a player.
As fun as the game is, I get bored at times. And in poker – boredom is very dangerous!
For example, I find myself today doing things at the poker table that are perceived to be negative expected value (EV) – such as "limping" and "min-raising".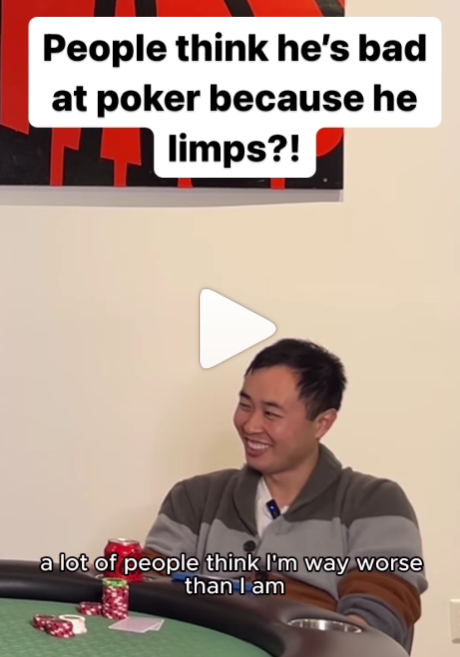 In the video – I explain that part of the reason I intentionally do "stupid" things is to throw people off. But upon more reflection, a bigger part of the reason is to stave off my own boredom. So while stupidity may be lower immediate EV, it leads to higher EV for me in the long-run😆!
Anyways, to get my game to the next level (i.e. to comfortably and consistently win at higher stakes), I feel I would need to put in more effort.
I would need to do what all winning, high-stakes poker professionals do – study range charts, practice with solvers, and hire coaches. 
Then the game will no longer be just a game, it will feel more like a job.
That – plus the prospect of facing higher volatility at higher stakes – does not energize me.
I think the big decisions in life are emotional:
How do we want to spend our time?

What do we want out of life?
It's an on-going question I ask myself: how should poker fit into my life?
I started having these thoughts a couple of years ago as I realized that I probably could cut it at higher stakes if I invested more effort honing my game.
But then I thought about the aforementioned downsides – and I felt stuck.
I'm innately competitive. I needed to improve. I wanted to take my relationship with poker to the next level.
"But do I want to climb up the stakes in poker? Where does it lead me? Where does it end?"
Facing that uncertainty, I resolved to combine my love for poker with another thing that brings me joy – building businesses.
So over the past year and change, I've been building something called Modern Club.
We are a social poker community that operates on a legal tipping system (no rake). 
Our motto is: play poker with people you know. It's a friendly, social environment – the only online poker club where every player has a social profile. It feels as close to an IRL home game as an online game can be. Come check us out sometime.
Nowadays, I play ~10 hours / week of poker, which feels reasonable.
Half of my play is at live home games. (My friends host a lot of unraked home games in the SF Bay Area – hit me up if you are ever in town and are interested in playing!)
Two asks:
I'm going to write more about poker going forward. Please drop me a line if there are any poker-related topics you'd like to hear about.

If you know of any friendly home games in other cities – I travel frequently and love playing in new cities and meeting new people – please drop me a line as well! (

yz@yishizuo.com

)